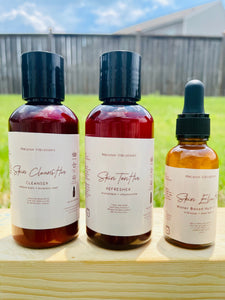 Melanin Vibrations Intimate Skincare
Melanin Her Skincare System (Plant-Based)
Regular price
$85.99
Sale price
$88.00
Unit price
per
Melanin Her 3 Piece Essential System- is the perfect preventive care routine for melanin rich skin of all types.
Includes:
Melanin Her 

Willow bark and licorice root Skin 

CleansHer (Cleanser) 4 oz.
Melanin Her Cucumber and chamomile Skin TonHer
(Toner) 4 oz.
Melanin Her Hibiscus serum Skin ElixHer (Elixer) 1 oz.
Melanin Her Skin CleansHer- This Plant Based Willow bark and licorice root cleanser is formulated to gently and effectively remove dirt and oil. Willow Bark and Licorice Root Extracts are well known for fighting blemishes, bacteria, and inflammation. Your skin is left feeling clean and soft.
Gently cleanses and removes surface oil and debris without harsh abrasives
Formulated to balance pH levels and retain skin's natural moisture levels.
118.3 mL/ 4oz
Melanin Her Skin TonHer- This antioxidant-rich Cucumber and chamomile toner, with natural ingredients, replenishes and restores skin for a healthy glow. It calms and tones your skin with an organic blend of botanical extracts that protects its cells from damage. 
• Antioxidants shield & renew the surface of skin
• Gently balances and tones skin with a mild astringent effect
• Non-drying formula leaves skin soft, clean and toned with an elegant feel
• Alcohol-free
• For all skin types, particularly dry or sensitive skin
Melanin HER Skin ElixHer- This Plant based Hibiscus ElixHer is a potent, multi-use herbal-infused serum. This viscous, vitamin-filled serum accelerates skin's natural repair process; minimizes pigmentation and inflammation; and restores elasticity to skin in need, whether mature, dehydrated, stressed, or sun-damaged.
Melanin Her Skincare System is our premiere collection. The FIRST Natural Plant-Based Formula with Melanin Vibrations Melanin HER Skin Care System No Parabens or Phthalates. Suitable for all skin types.  INTENTIONAL SKINCARE YOU DESERVE EXCLUSIVELY FORMULATED FOR MELANIN-RICH SKIN
---