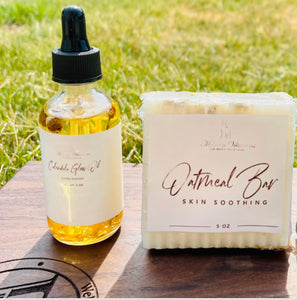 Melanin Vibrations Intimate Skincare
Oatmeal Eczema/Psoriasis Bar & Calendula Face Oil Kit
Regular price
$24.00
Sale price
$25.00
Unit price
per
Kit Includes:
(1) 5 oz Oatmeal Eczema/Psoriasis Bar
(1) 2 oz Calendula and Chamomile Face Oil
Oatmeal Eczema/Psoriasis Bar:
This smooth, Silky and Unscented bar has Goats Milk, Oatmeal, Marshmallow root, which may improve your skins ability to retain moisture. You don't have to have eczema or any skin condition for your skin to benefit from these! Perfect every day bar that will leave your skin soft, healthy and  clean without stripping of natural oils! This Effective but gentle bar is safe enough to use on children six months and older. It may help fade darkness left by eczema scarring.
***Bars are handmade so designs may vary.
Ingredients: Marshmallow root, colloidal oatmeal, Raw Honey, Grapeseed Oil, Coconut Oil, Jojoba, Aloe, Essential oil of tea tree.
Calendula and Chamomile Face Oil
Two of the most soothing and healing flowers, calendula and chamomile are my favorite ingredients to work with. From reducing inflammation to fighting bacteria, oils infused with these potent plants can work wonders!
Calendula-heals wounds , Nourishes Dry Skin, Reduces Scarring. Calendula not only works wonders for soothing dry, itchy, eczema-prone skin, but it also helps nourish the skin,
Chamomile-Reduces Inflammation, Relieves Stress + Promotes Sleep, Rich in Antioxidants.

Ingredients:
• Sweet Almond Oil
• Chamomile & Tea Tree oil 
• infused For 3 months with the calendula flowers & camomile flowers
 For external use only. Although contains herbs known to help with certain ailments, it is Not FDA Approved or intended to diagnose treat or cure any disease. Keep away from inside of eyes and children and pets. As with any product, test small area of skin first; if any irritation rinse immediately with water and discontinue use.
---