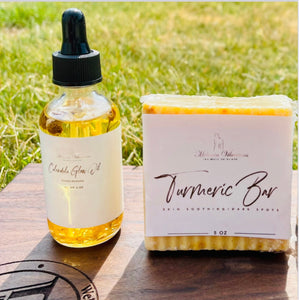 Melanin Vibrations Intimate Skincare
Turmeric Exfoliate & Glow Bar & Calendula Face Oil Kit
Regular price
$24.00
Sale price
$25.00
Unit price
per
Kit Includes:
(1) 5 oz Turmeric Exfoliate & Glow Bar
(1) 2 oz Calendula and Chamomile Face Oil
Turmeric Exfoliate & Glow Bar:
Skin brightening and softening properties of turmeric makes this bar perfect for hyper-pigmentation, dark armpits, knees, elbows, uneven skin tone, or dry skin. Its anti-inflammatory properties helps relieve skin irritation caused by furunculosis, eczema, and dermatitis.The oatmeal & Marshmallow Root also acts and an Exfoliate and "EXFOLIATING is key to bright glowing and even skin tone!"
Calendula and Chamomile Oil:
Two of the most soothing and healing flowers, calendula and chamomile are my favorite ingredients to work with. From reducing inflammation to fighting bacteria, oils infused with these potent plants can work wonders!
Calendula-heals wounds , Nourishes Dry Skin, Reduces Scarring. Calendula not only works wonders for soothing dry, itchy, eczema-prone skin, but it also helps nourish the skin,
Chamomile-Reduces Inflammation, Relieves Stress + Promotes Sleep, Rich in Antioxidants.

Ingredients:
• Sweet Almond Oil
• Chamomile & Tea Tree oil 
• infused For 3 months with the calendula flowers & camomile flowers
---